Proxitane® AHC
The Safest and Most Affordable Hospital-grade Disinfectant on the EPA's List N
From schools, offices, public transit and athletic facilities to industrial, retail and manufacturing spaces and everything in between, finding the right disinfectant for your specific circumstances is a challenge. Midwest has the solution.
---
The Intersection of Effectiveness, Affordability and Safety
When searching for a disinfectant for your cleaning and disinfecting program, you have three primary concerns:
1. EFFECTIVENESS
First, will the product adequately protect you and your staff or visitors from bacteria, fungi and viruses? For example, the U.S. Environmental Protection Agency has a list of products that are approved for use against SARS-CoV-2, the virus that causes COVID-19, but within that list there are varying levels of effectiveness.
Midwest's solution, Proxitane® AHC (a part of the Midwest Disinfecting System), addresses this concern better than any other disinfectant on the market.
Proxitane® AHC's active ingredients are hydrogen peroxide and peracetic acid.
These active ingredients are highly effective against a range of bacteria, fungi and viruses; in fact, they are even more so than other common products like bleach. According to one source, that ranks common types of disinfectants by effectiveness level, hydrogen peroxide, peracetic acid and the combination of the two make up three of the top six spots (all rated as high-level disinfectants).
(For reference, chlorine-based products, like bleach, are number 7 on the list.)
Second, you need a program that won't break the bank. When it comes to affordability, Midwest also delivers better than any other.
When comparing product prices, you need to look at two numbers. First, find the dilution rate of your product of choice (in other words, how many gallons of solution one gallon of concentrate will make). Second, determine the amount of square feet one gallon of solution can cover.
Common Alternative
For example, take bleach (what the CDC recommends if you don't have a commercial disinfectant on hand). Bleach can be diluted at a ratio of 48:1. This means that one gallon of bleach makes 48 gallons of solution. One gallon of bleach solution covers 250 square feet, so those 48 gallons can disinfect 12,000 square feet.
If you buy a gallon of bleach for $2.67, your cost is $2.67 for 12,000 square feet, or approximately 4,500 square feet per dollar
Midwest Solution
Proxitane® AHC is extremely affordable. Because it dilutes at a ratio of 320:1 and a single gallon of solution covers an entire 15,000 square feet, it means that you can cover almost 54,000 square feet per dollar, compared to 4,500 square feet per dollar for the bleach example above.
That means that every dollar you spend on Midwest's Proxitane® AHC goes 4.5 times as far as every dollar you would spend on a bleach solution.
(See our cost estimate calculator to compare the cost of various disinfectant products. This calculator will show you the cost per 15,000 square feet as well as the cost per year. All you need is the square footage you plan to disinfect, the number of applications you will do per day and the number of days the facility is used per year.)
3. SAFETY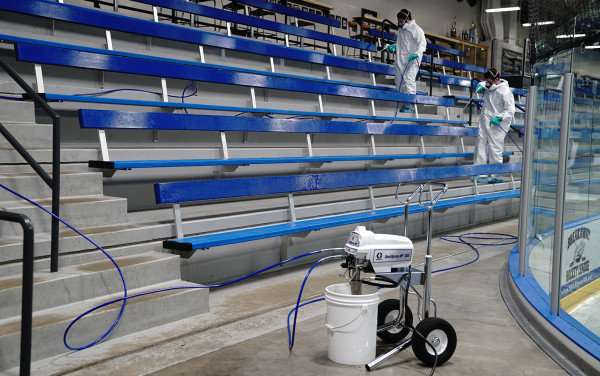 Third, will it leave a toxic residue behind, like bleach? If so, it will require a post-clean (on top of a pre-clean, for many products)
Listed on the EPA's safer choice chemical list, the active ingredients in Proxitane® AHC ensure that it does not leave a toxic residue that requires a post-clean. In fact, the top three products on the list referenced above are all aldehydes, which are so toxic that they have been abandoned in many healthcare settings. Many facilities now prefer hydrogen peroxide, peracetic acid or a mix of the two as the ideal combination of effectiveness and safety.
Wide-Ranging Effectiveness
Proxitane® AHC is Effective Against a Wide Range of Bacteria, Fungi and Viruses, Including the Following:
Staphylococcus aureus
Salmonella enterica
Trichophyton mentagrophytes
Vesicular Stomatitis Virus
Porcine Respiratory and Reproductive Syndrome Virus
Influenza A Virus
Infectious Bovine Rhinotracheitis Virus
Rhinovirus Type 37
Infectious Bursal Disease Virus
Newcastle Disease Virus
Avian Influenza Virus (H3N2)
SARS-CoV-2 Virus (causes COVID-19)
THE HARDER-WORKING DISINFECTANT
The Disinfectant That Works Harder – So You Don't Have To
Hospital-grade disinfectant
Effective against a wide range of bacteria, viruses and fungi
Contains a detergent to eliminate need for pre-cleaning
Active ingredients are hydrogen peroxide and peracetic acid (both on the

EPA's safer choice chemical list

)
Leaves only water, vinegar and oxygen behind, compared to toxic residues from most other disinfectants
Has a 320:1 dilution rate, meaning one gallon of concentrate makes 320 gallons of solution
Each applied gallon of solution costs only $0.28
Each gallon of solution covers 15,000 square feet
Effectively disinfects a range of surfaces, including stainless steel, linoleum, plastic, vinyl, glazed porcelain and glass
Part of the Midwest Disinfecting System – an entire program designed to get ultimate results
DISINFECTING SOLUTION PROGRAM
More Than a Product – Midwest's Total Disinfecting System
Proxitane® AHC is a fantastic disinfectant by itself. But as with all of their products, Midwest goes above and beyond to ensure that you get the best results possible. For that reason, Midwest also offers a wall-mounted injection pump and a range of sprayer options, based on the size of the space you are disinfecting.
The sprayer is the only one on the market designed specifically for sanitizing and disinfecting. Unlike other sprayer options, it ensures a consistent, even coating. This allows a gallon of the Proxitane® AHC solution to cover the full 15,000 square feet described above, while not leaving any spots uncoated.
For more information on the entire Midwest Disinfecting System, visit www.midwestds.com.
It Kills More… Protects More… But Costs Less
Viral particles are primarily spread through moisture droplets. These occur when people breathe, talk, laugh, cough, sneeze, etcetera. Droplets over 10 microns in size will only travel a couple of yards before dropping to the ground. If someone is within that range, they can receive a large enough dosage of viral particles to potentially get sick.
However, the other way people catch viral diseases (such as the COVID-19) is by touching surfaces. Usually the CDC discusses this within the context of someone touching their mouth then touching a surface. However, most droplets that could carry viral particles are actually smaller than 10 microns and can stay in the air for quite some time. This allows them to travel as far as 27 feet.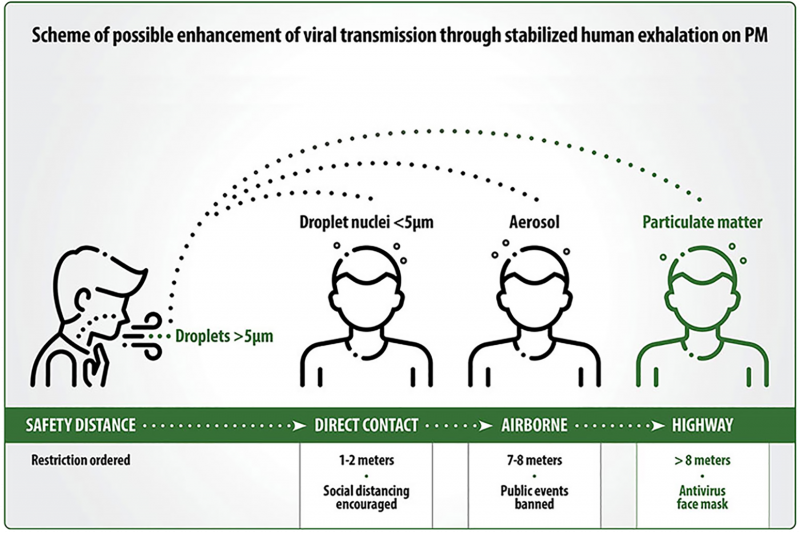 The effect is that viral particles may be more widespread, with a broader, more random distribution, than usually realized.
This is why having an effective disinfectant, that is spread evenly and consistently, is so critical. Proxitane® AHC will go further and work harder to kill more, at a lower cost, than any competing disinfectant.
It does this through a simple mechanism: as it is applied, the detergent included in the formulation first cleans the surface, allowing the disinfectant to stick longer, prolonging its killing power.
Next, as the Proxitane® AHC breaks down, it turns into water, vinegar and free oxygen molecules. These oxygen molecules attack the protein shell that protects the virus, killing it. In the end, the virus is eradicated and no harmful residue remains.
And it manages all of this for only $0.28 per 15,000 square feet.
For the ultimate results in achieving your disinfecting goals, choose Midwest's Disinfecting System.
Save on your disinfection program. Fill out the form to begin the progress.