WHEN BELTS DON'T MOVE, GOODS DON'T MOVE

Keep conveyor belts running in the worst winter weather, saving productivity and profits with Midwest's spray systems and anti-icing, deicing agents.
YOU CONTINUE THROUGHPUT WHILE OTHERS GO KAPUT.
You can prepare to ensure reliability, because you can't afford to let operations shut down.

Some materials, like coal, are in demand year round — especially in WINTER. So that's the worst possible time for your operations to experience delays or interruptions because of freezing conditions. Midwest makes application systems and products both to protect (through proactive planning) and alleviate (after a weather-related incident).

PREVENT ICE BUILDUP

PREVENT MATERIAL SLIPPAGE

BOTH ANTI-ICING AND DEICING SPRAY SYSTEMS

ELIMINATE CONVEYOR WEATHER-RELATED FREEZING PROBLEMS

CREATED TO TAKE ON SNOW, MOISTURE, FREEZING AND SUB-ZERO TEMPERATURES

SPECIFICALLY DESIGNED FOR THE UNIQUE WINTER OPERATING PROBLEMS OF CONVEYOR SYSTEMS
The Leading Program for Conveyor Belt Anti-icing/Deicing
Though vulnerable, belt conveyors can be protected.
Midwest's conveyor belt anti-icing promotes prevention, as anti-icing takes a much smaller volume of chemical, more than a little influenced by the timeless adage that an ounce of prevention is worth a pound of cure.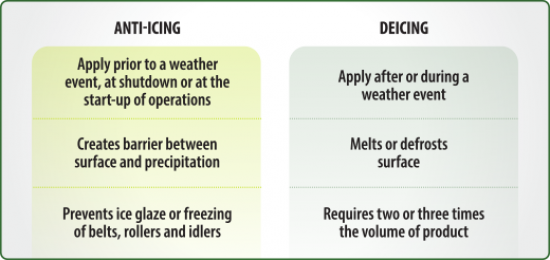 Winter weather alone is the not the full story. Exposure to it also matters. About 50% of belt conveyors handling bulk materials are installed outside, making weather conditions a defining factor in belt system operations.
Exposure to extreme weather brings hazard to those operations. Ice buildup can inhibit the function of a component, interfere with belt tracking, cause belt slippage or even cause the belt to break loose. Accumulations of snow and ice may necessitate shutdowns to clean the conveyors. Carrying and return exacerbates foreign material buildup, with particular problems at transfer points.
Work stops. Workers stop productive work to clean the conveyor. Their well being is subject to the risk of the cleanup activity as well as navigating slippery area itself.
Midwest helps in two ways. The first is by making cleanup more effective and easier. The second is through winter preparedness, defending against the worst winter conditions before they become operational difficulties. Prevention, of course, is the most effective remedy of them all. Midwest's Ice Free Conveyor was created as a multivariate means of prevention:

Prevents material sliding "down" the "up" conveyor
Spray on the topside of the conveyor belt

Prevents ice build-up, carry-back or material backslides
Apply to tail pulleys or idlers

Prevents ice formation and tracking problems

Prevents further ice accumulation and speeds removal
Spray at start-up or during operation
MIDWEST CONTINUES WORKING DOWN TO 70˚F BELOW ZERO. OTHER METHODS CAN LOSE EFFECTIVENESS BETWEEN 0˚ AND -10˚F.

When you think about it, for many areas of the U.S., that's a mild winter. If your operations depend on hoping the temperature doesn't dip below zero — let alone minus ten degrees — because what you're using can't handle more severe conditions, then you need to trust your belt conveyor systems to Midwest. Midwest will co-develop a customized program with you to proactively deal with winter weather, preparing the right program with the right products to provide solutions for your problems.
Operations Problem
Interruptions and shutdowns

Ice and snow accumulations

More demand simultaneous to winter challenges

Employee redeployment for cleanup, along with its inherent risks
Midwest Solution
Keep belts operating during severe winter weather

Eliminate ice glazing and buildup on conveyor belts

Increase material production through proactive applications as part of a regular winter readiness program

Reduce hazardous conditions and reduce cleanup manpower needs
The advantages of the Midwest conveyor belt deicing program is largely based on the right combination of product with application. Midwest Ice Free Conveyor Winter Operating Agent prevents belt icing, removes ice glaze and prevents and removes build-up on idlers and pulleys to -70°F. Midwest Cobra Winter Spray Systems serve for both anti-icing and deicing application.
As the longest-lasting formulation available, Ice Free Conveyor uses Midwest's superior ice-fighting chemistry and powerful active ingredients to combat everything that conveyor systems are subjected to by nature and the coal handling process. Better still, less material is needed to get better results. When used as an anti-icer, Ice Free Conveyor outperforms ordinary products within their temperature range in smaller amounts.
Midwest Ice Fyghter D eliminates conveyor problems caused by snow, moisture, freezing and sub-zero temperatures to temperatures as low as -41°F. Ice glaze is prevented or instantly melted if already present. The most economical non-chloride-based belt deicer available today also saves motors from burning up and belts from tearing when the conveyors are started. Ice does not build upon the idler or cause tracking problems ordinarily caused by ice accumulation.
Midwest Liquid Ice-Mlt keeps you operating during peak demand times by eliminating coal and material handling problems caused by ice glazing and fines build-up to temperatures down to -34°F. This protects productivity by eliminating issues that compromise or interrupt operations. It works whether proactively applied or to treat an existing problem. Prevent snow and ice buildup before it starts, or melt it if it's already on conveyor belt surfaces.
Midwest EnviroMLT serves as both preventative and deicing agent, with the flexibility for a variety of applications and active to freezing points below -65 F. This proprietary, non-chloride formulation is safe, ready to use and environmentally sound.
Overall, the Midwest collection of winter products provides a comprehensive suite of options to best meet your needs and investment level. We help you co-develop the optimum program based on those alternatives in relation to annual usage and the costs associated with operational failure — defined as the economical cost of a shutdown during critical times; cleanup costs; and manhours shifted that may create a labor shortage for productive work by reacting to problems and performing subsequent cleanup efforts. To help make these decisions, we ask you these questions:
Do I need anti-icing or deicing? | What are my site-specific operational challenges? | Is there a cost failure?
Fines and other fugitive materials can't be ignored, either.
Midwest looks at the entire belt conveyor system and combats all factors that negatively impact operations as a consequence of winter weather. Ice buildup is an obvious problem, but other materials can be a direct cause of belt failure. In general, as much as 85% of bulk belt conveyor maintenance problems have been attributed to fugitive materials. Between dust, spillage and carryback, complex belt systems are pushed to their limit.
It makes sense that Midwest's conveyor belt deicer science concentrates on preventing ice buildup. But Midwest does not stop there, also producing cover friction to promote productivity while minimizing carry-back. Ice Free Conveyor is the only product formulated with ingredients that, when sprayed lightly, actually produces belt cover friction. Belts carry coal even when extremely hard. Backslides are prevented, even when belts harden (which typically starts at 20°F and worsens with colder conditions). Ice Free Conveyor is also the only product formulated to prevent or minimize fines carry-back and build-up on belts, idlers and pulleys. Since these represent the major causes of winter systems problems, only Midwest offers the total winter preventative program.
With Ice Fyghter D, fines do not build-up, avoiding improper belt alignment. Coal keeps going up the conveyor instead of sliding down, through a process that increases friction on the belt surface. Maintenance is simplified, protecting productivity by reducing the chances of problems before they can develop and by reducing the labor required.
Liquid Ice-Mlt also prevents fines buildup on conveyor belts to eliminate coal and material handling problems. Apply to tail pulleys, the bottom cover, or trough idlers to keep buildup from occurring both with fugitive materials and ice glazing. This is crucial because while fines OR ice can cause operational problems, their combination results in dramatic issues such as interruption and shutdown.
A TOTAL PROGRAM, CO-DEVELOPED WITH YOU.
Midwest thinks differently than the rest of the industry. Using the science of ice prevention and directly taking on existing conditions before they cause harm, Midwest works with you to manage the weather and control its impact rather than reacting like everybody else.
A product is not enough. Even with industry-leading products like Midwest Ice Free Conveyor, Ice Fyghter D and Liquid Ice-Mlt. You need a program that is practical and easy to implement to simplify the demands on manpower.
The Midwest program seamlessly integrates into your coal or other materials handling operations for real-world performance results. Co-developed with you to determine your best solution, it provides accurate data for predictable performance assurance to achieve proper scale-up and overcome obstacles to success.
Midwest offers the only customized and dynamically managed coal and materials handling weather protection program. Anyone can sell you a product, but Midwest's full solution combines product chemistry to prevent freezing with an application system that keep belts operating through the most severe weather conditions.
THE RIGHT PRODUCTS:
> Ice Free Conveyor is a multi-component glycol-based liquid belt anti-icing and deicing agent developed for the extremes in conveyor belt operations — from cold temperatures and high coal moisture content to old or worn belts and steep inclines.

ELIMINATES / EXCELS
ELIMINATES coal and material handling problems by PREVENTING ice glazing and fines build-up on conveyor belts.
EXCELS in the most extreme conditions (extremely wet coal, cold weather and precipitation) and PROTECTS against the most extreme conveyor system challenges (extremely old, hardened and weathered belts at extreme angles).
> Ice Fyghter D is a multi-component, glycol-based, liquid belt deicer and anti-icing agent. All it takes is a light spray on the conveyor belt(s) for one complete revolution to eliminate coal and material handling problems caused by ice glazing and fines build-up on conveyor belts.

PREVENTS / PROACTIVE
PREVENTS ice glaze when sprayed on top of conveyor belt and PREVENTS ice buildup caused by precipitation or moisture from the coal when applied to tail pulleys, the bottom cover or trough idlers.
PROACTIVELY works when applied prior to shut-down to prevent ice formation as an anti-icing agent, OR helps ice removal and inhibits further accumulation when applied at start-up or during operation as a deicing agent.
> Liquid Ice-Mlt is a multi-component liquid belt deicer that's a proprietary blend of diethylene glycol, chlorides, and various other ingredients which enhance ice melting and prevent ice build-up.

PREVENTS / MELTS
PREVENTS ice glaze on top of the conveyor belt and PREVENTS ice buildup caused by precipitation or moisture from the coal when applied to tail pulleys, the bottom cover or trough idlers.
MELTS ice that's already formed upon direct application and SPEEDS removal of ice, when applied at start-up or during operation. This also keeps more ice from accumulating.
THE RIGHT APPLICATION
> Midwest Cobra Winter Spray Systems offer complete flexibility in fitting your operational needs. You can choose the system best for you and apply in a proactive process to stop problems before they can develop.

FLEXIBLE / ADJUSTABLE
FLEXIBILITY in design, whether programmed for automatic spraying; press-and-go for a pre-set time; or manual operation through the use of a toggle switch.
PREVENT ice buildup and materials slippage by spraying head, tail, bend pulleys with an ADJUSTABLE output suitable for any conveyor belt width or speed.
WANT TO PREVENT ICE GLAZING & PROTECT AGAINST THE WINTER? FILL OUT THE FORM TO BEGIN THE PROCESS.