Apr 25, 2022
Midwest Opens New Manufacturing Cell in Canton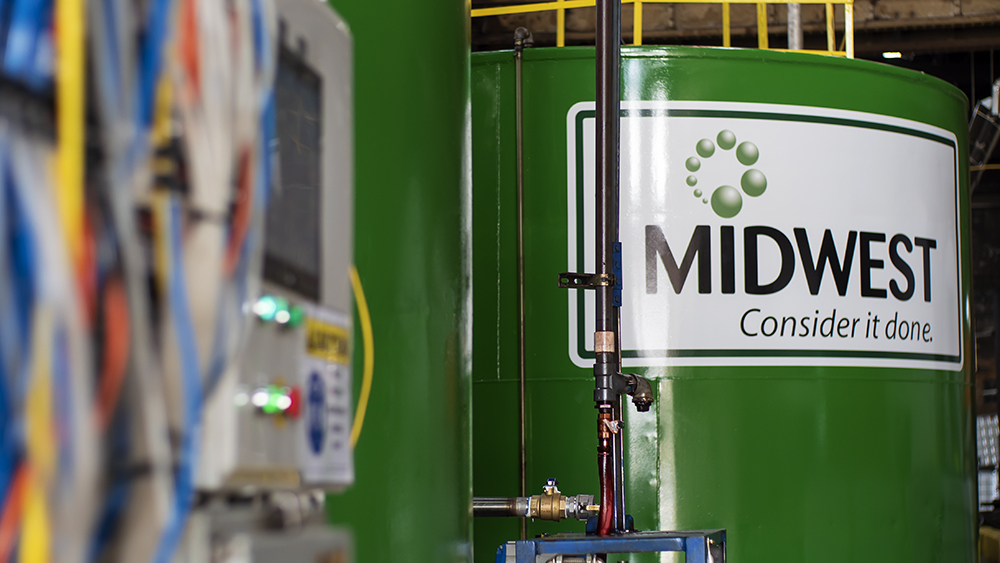 CANTON, Ohio (April 25, 2022) — Midwest, the technology and innovation leader in dust control, soil stabilization, rail lubrication and anti-/deicing products, today announced it has opened its new manufacturing cell at the company's headquarters in downtown Canton. The new cell will manufacture Midwest's leading dust control and soil stabilization products: EK35, EnviroKleen and MineKleen Plus. Midwest recently held a celebration commemorating the upgraded facility.
The new equipment provides the highest level of product quality because it was specifically configured to produce these products. By having a few people handle several processing steps within a compressed area, a cell provides the most controlled environment available in manufacturing.
The layout for the new manufacturing cell was designed to make the process safer and more repeatable, bringing tighter tolerances to the production of the formulas. Tighter tolerances equate to reduced overhead, processing time, and waste. Midwest indicated the new facility will produce three times more formula per day. Most importantly, the design introduced new protocols focused on employee safety.
"We're very proud of our history of helping communities throughout the world become healthier. By using eco-friendly products to reduce dust, residents can breathe easier, and their environments will remain sustainable," commented Bob Vitale, Founder and CEO of Midwest. "These products produce unmatched dust control and soil stabilization results. The formulas preserve aggregates and road surfaces, which in turn prevent respirable airborne dust and washed-out particulate matter in all sorts of unpaved applications."
Midwest has spent the past 20 years perfecting these product technologies. As the research and development leader in its industry, the company has partnered with engineers, environmental scientists, independent testing agencies, and its customers to bring the highest level of dust control and soil stabilization formulas to the market.
Founded in 1975, Midwest continues to serve industrial, construction, oil & gas, mining, military, rail, and many other industries throughout the world. The company has offices throughout the United States and Canada, and maintains distributor partnerships with companies throughout the world.
"We are so proud to be a part of Canton and will continue to invest in our facilities here," stated Steve Vitale, President of Midwest. "This is another major step for our company as we continue to invest in our manufacturing processes and capabilities."
Follow Midwest on LinkedIn.
About Midwest
Midwest is a pioneer in the fields of dust control, soil stabilization, rail lubrication and anti-/deicing products, having helped to found the industry almost 50 years ago. Since then, Midwest has constantly innovated in the field, always staying ahead of the competition with new breakthrough technologies.