NATURALPAVE SEMI-PERMANENT PEDESTRIAN SURFACES

The strength of asphalt roads, while saving up to 70% of the cost.

The environmentally-positive alternative for semi-permanent unpaved roads, from the leading innovators in soil stabilization.
THE THIRD WAY
MIDWEST NATURALPAVE PATHWAY BEAUTIFICATION
Natural looking, cost-effective paths and trails that are easy to maintain.
Breathe in … and breathe out … slowly and deliberately. Places meant for respite and recreation should be designed for visual comfort and relaxation, not remind you of sitting in traffic. Asphalt and concrete are out; natural aesthetics are in. Bonding with nature creates an innate sense of calm, just as caring for one's self builds purpose.
NaturalPave Resin looks as natural as its surroundings — because it is, as if designed by Nature herself. Whether a pastoral park, bike trail along a river, or parking area for an out-of-the-way campground, NaturalPave Resin lets you replace (or avoid in the first place) asphalt or concrete with a new, "Third Way," where naturally beautiful surfaces are the desired outcome and the visual atmosphere reflects an untouched past.
Midwest's versatile natural paving system delivers more than aesthetics. In addition to curb appeal, it produces heat-reflective, cool surfaces with superior strength, durability and environmental properties that can translate to LEED credits for your project. You get the performance you want at a lower cost per square foot than asphalt or concrete, without causing any harm to the environment.
footpaths | park trails | resort paving | golf cart paths | driveways | parking lots | riding trails | bike trails | camping areas | garden paths | waterside paths | recreation areas | courtyards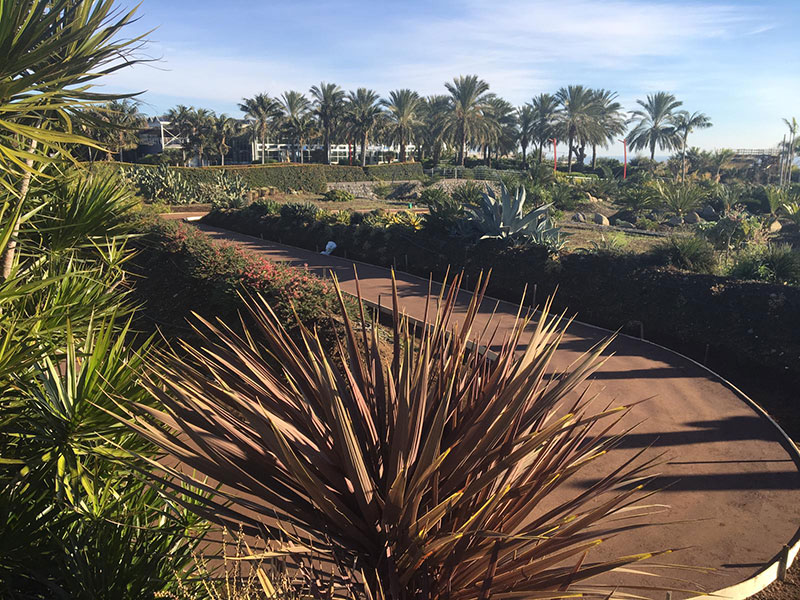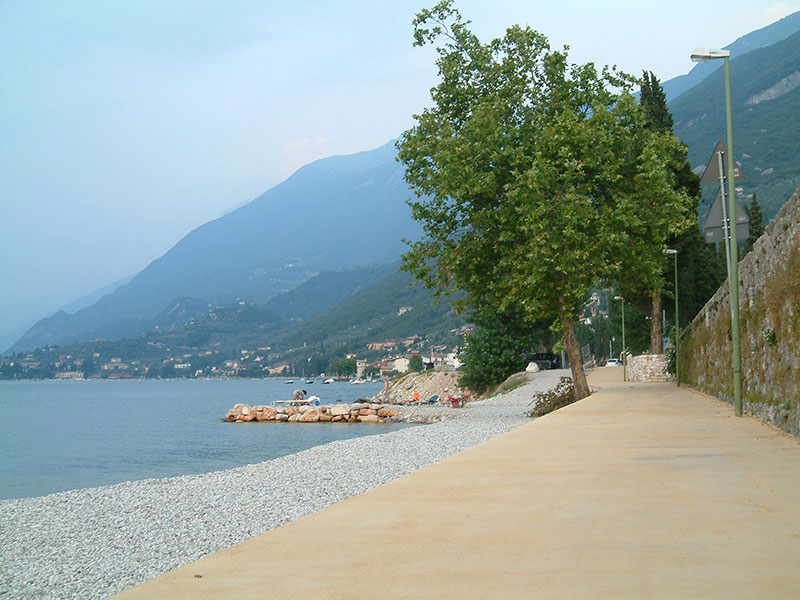 THE NATURALPAVE SYSTEM

Aesthetically Advanced
Creates a decorative, durable, all-weather pavement

Heat-reflective
Produces heat-reflective surfaces that remain cool

ADA-compliant
Meets ADA guidelines for accessibility

Easy Installation
Installs with ease and is simple to maintain

Eco-friendly
Will not harm vegetation or wildlife

Asphalt's Alternative
Can be used to repair deteriorated asphalt
REAL-WORLD SUCCESSES, IN THE U.S. AND AROUND THE WORLD.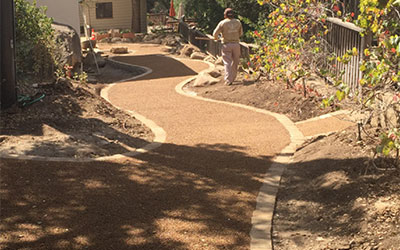 Botanic garden pathways hit full bloom.

One of the country's most esteemed living museums, visited by nature lovers around the world, desired a more organically constructed, aesthetically pleasing, and environmentally friendly pathway system to replace its pavestone walkways. Causing little to no disruption of daily visiting activities, Midwest's self-contained project created a pathway safer for plant life and visitors, with a porous pavement offering more traction than the former pavestone pathways, even when wet.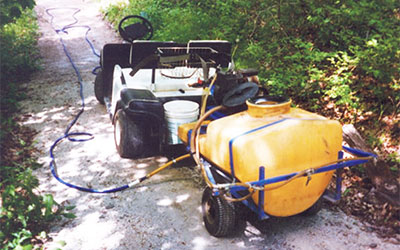 Bike trail danger gets detoured.

The top layer of soil on a popular state park mountain bike trail had eroded, exposing rocks at curves and grades that posed a danger to bikers. NaturalPave halted erosion by strengthening the trail with a surface-binding capability so powerful that after application, bike traffic actually produced skid marks on the trail! Maintenance costs were greatly reduced by extending the intervals and lowering investment compared to other mechanical soil stabilization techniques.
ARTPAVE
MIDWEST NATURALPAVE ARTPAVE® AESTHETICALLY-ENHANCED POROUS PAVEMENT
An aesthetically-pleasing porous paving surface that's as versatile and durable as it is beautiful.
Ahhhhh … finally home. Ready to relax and reflect. Maybe it's time to enjoy some personal time on the golf course or at the pool instead. No matter the choice, leisure is on the menu and work has shifted to far in the back of your mind. Nothing must get in the way tranquil views and soothing thoughts. That means concrete and asphalt must be banished in favor of natural surfaces that belong to the space, rather than distract from it.
NaturalPave ArtPave® is a poured-in-place, regionally-sourced stone that is bonded with a proprietary polymer enhanced-resin binding agent. Naturally permeable, it's also eco-friendly, cost effective and a natural looking alternative to traditional paving methods like asphalt or concrete. The pavements provide architectural enhancements, design flexibility and environmental benefits, while maintaining simplicity and ease of installation.
An array of natural stone colors are bonded with a high strength resin that is modified with polymer for weatherability and high porosity. Ten color options allow creative landscape design to take center stage.
parking areas |sidewalks & drives | golf cart paths | trails & walkways | pedestrian patios | pool pads
Created with regionally sourced stone and aggregate

Available in 10 natural colors

LEED credits for Cool Pavement Technology — enables evaporation at surface, creating a lower surface temperature

LEED credits for Storm Water Management effectiveness — 2 times more porous than other systems

Durable to harsh weather due to advanced, flexible binder system

Poured in place for optimal design flexibility

Solves the runoff problem at the source

Lighter colors offer high reflectivity

Naturally replenishes aquifers
Midwest NaturalPave ArtPave provides twice the porosity as other porous pavements to greatly reduce stormwater run-off; low environmental impact, due to a highly permeable surface of natural, low-impact BMP that reduces stormwater runoff, keeps the stormwater on-site and decreases the requirements and costs for stormwater collection basins; natural colors complement, contrast and enhance building or landscape designs to suit any environment and architectural design.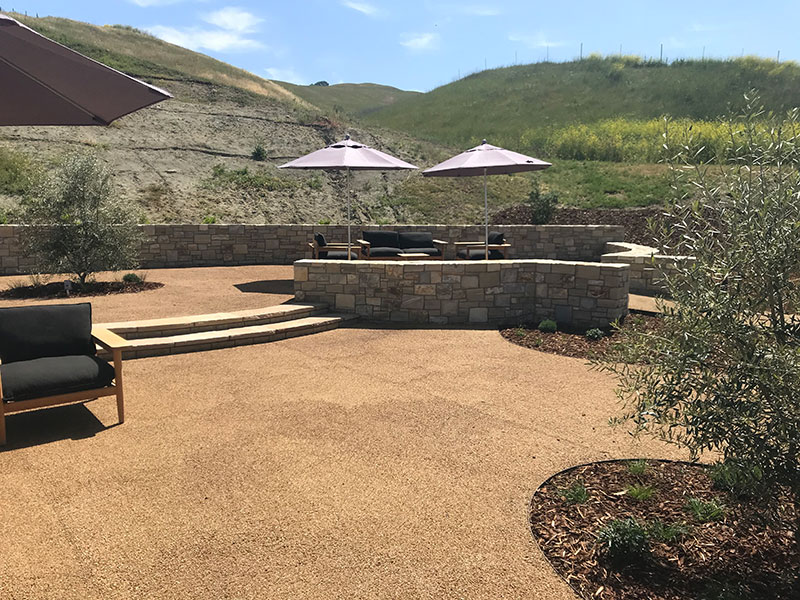 RESINPAVE
MIDWEST NATURALPAVE RESINPAVE® GIVES ACCESS TO NATURE FOR ALL, ON NATURE'S TERMS
Natural-looking surfaces that are more ecologically responsible.
When amongst nature, we choose to respect it, for a state of harmony between humans and land. The Dalai Lama reminds us, "The natural environment sustains the life of all beings universally," while Franklin D. Roosevelt warned that "a nation that destroys its soils destroys itself. Forests are the lungs of our land, purifying the air and giving fresh strength to our people."
Midwest NaturalPave ResinPave offers environmentally safe alternatives to harmful materials such as asphalt (which contains coal tar pitch), gravel (which can be overrun by weeds and often fails to provide stable footing, especially for those with limited mobility) and concrete (causes damage to the topsoil and contributes to surface runoff and erosion).
Midwest's natural paving system ensures environmentally sound and physically stable construction. NaturalPave ResinPave not only looks pleasantly natural, but is also much safer to use than other options. For those with limited mobility, it has a slip-and skid-resistant surface with optimal flexibility. The hard-packed surface is ideal for wheelchairs, strollers and walkers, while versatile enough for a wide range of uses:
footpaths | driveways | parking lots | recreation areas | bike trails | courtyards
It's easy to install, simple to maintain and made to create a custom appearance:
tough and resistant | suitable for all weather conditions | heat-reflective exterior keeps the surface cool | a wide variety of colors, patterns and textures | complements the natural beauty and unique personality of the grounds that surround it
20 years after the introduction of our original natural paving system, Midwest continues to take the lead on environmentally friendly solutions. NaturalPave ResinPave binds existing or locally sourced aggregate that can be applied by hand or by a paving machine. The finished surface, available for use after a short curing process, can be striped and painted for parking lots or other applications. Its non-toxic surface formulation is made without the hazardous, flammable or corrosive materials associated with ordinary methods.
NaturalPave ResinPave also meets ADAAG (Americans with Disabilities Act Accessibility Guidelines), providing convenient access for those in wheelchairs and mobility devices. The surface between accessible parking areas and trailheads is sufficiently firm and stable and has no uneven or overly steep sections.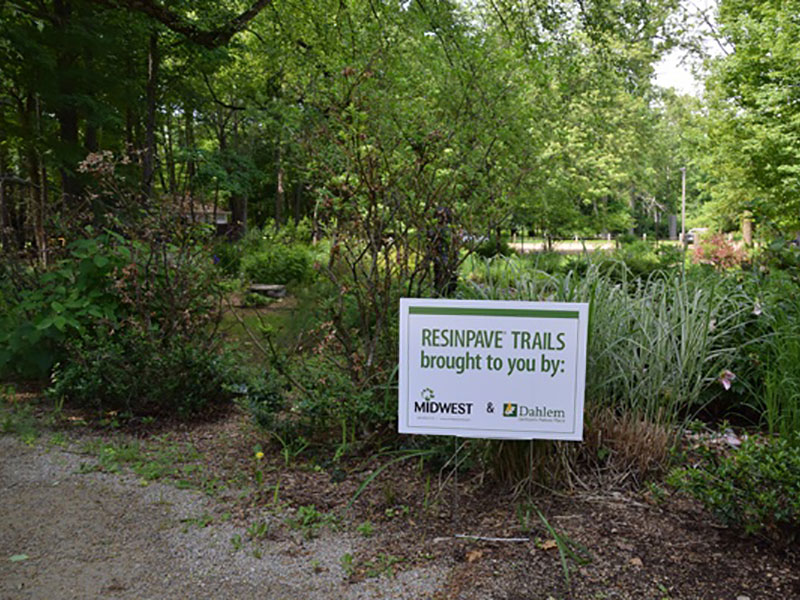 It's Only Natural

Reflects Solar Energy
Keeps surface temperatures down and contributes far less to the heat island effect than dark, heat-absorbing surfaces

Helps Control Peak Energy Demands
Also reduces greenhouse gas emissions and heat-related illness and mortality

Protects Water Quality
Reduces stormwater runoff and the temperature of the water that does run off, which means less thermal shock to aquatic life

Enhances Visibility At Night
Potentially reduces lighting requirements, to save both money and energy

Provides A Cooler, More Comfortable Environment
Perfect for places where people congregate or children play

Generates Much Less Thermal Conductivity Than Asphaltic Surfaces
Less heat is transmitted from the pavement into the coarser materials of the base
WANT THE MOST ADVANCED SOIL STABILIZATION TECHNOLOGY IN THE WORLD?